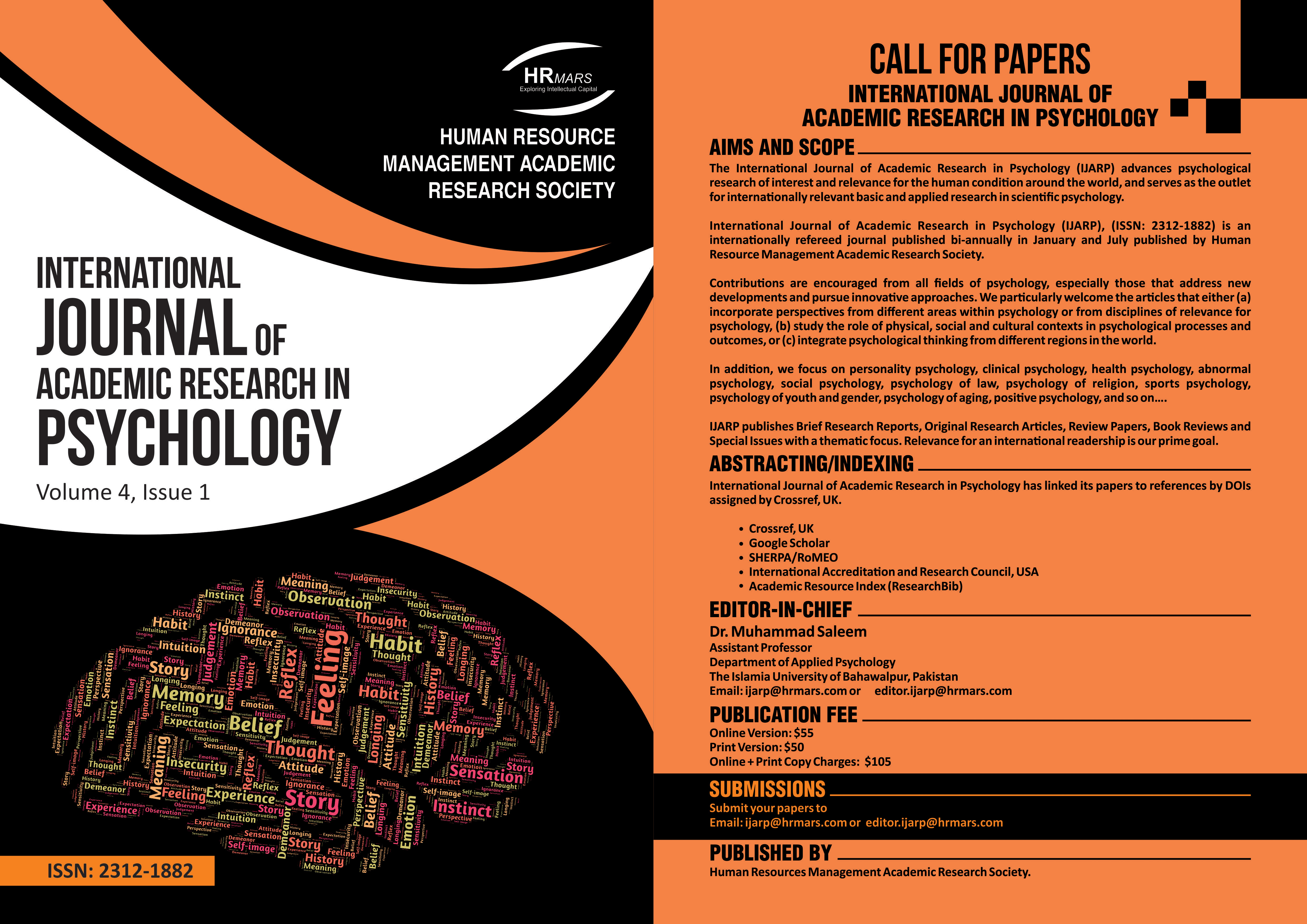 Aims and Scope
The International Journal of Academic Research in Psychology (IJARP) advances psychological research of interest and relevance for the human condition around the world, and serves as the outlet for internationally relevant basic and applied research in scientific psychology.
International Journal of Academic Research in Psychology (IJARP), (ISSN: 2312-1882) is an internationally refereed journal published bi-annually in January and July published by Human Resource Management Academic Research Society.
Contributions are encouraged from all fields of psychology, especially those that address new developments and pursue innovative approaches. We particularly welcome the articles that either (a) incorporate perspectives from different areas within psychology or from disciplines of relevance for psychology, (b) study the role of physical, social and cultural contexts in psychological processes and outcomes, or (c) integrate psychological thinking from different regions in the world.
In addition, we focus on personality psychology, clinical psychology, health psychology, abnormal psychology, social psychology, psychology of law, psychology of religion, sports psychology, psychology of youth and gender, psychology of aging, positive psychology, and so on….
IJARP publishes Brief Research Reports, Original Research Articles, Review Papers, Book Reviews and Special Issues with a thematic focus. Relevance for an international readership is our prime goal.
For information on specific requirements, please see the Submission Guidelines.
Peer Review Integrity
All published research articles in this journal have undergone rigorous double-blind review, based on initial editor screening and anonymous evaluation of content and merit by independent expert reviewers.
Journal Contact
Dr. Muhammad Saleem
Assistant Professor, Department of Applied Psychology, The Islamia University of Bahawalpur, Pakistan
Email: ijarp@hrmars.com or editor.ijarp@hrmars.com

Work in this journal is licensed under a Creative Commons Attribution 4.0 International License.